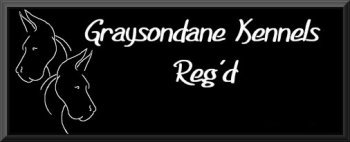 We welcome you
To our " NEW " web site !




A bit about our kennels
We are a small home based kennel located in south eastern Ontario , right on the Quebec boarder
I have bred and raised Great Danes for over 2 1/2 decades and have produced confident , large boned puppies with stable temperaments that grow up to become, trusted family members
My specialty is harlequins but I have been known to breed all colors of Great Danes
I breed only color pure lines as set out in our Great Dane standard
I do NOT breed a rainbow of colors into a pedigree, that may create faults or undesirable traits
We breed for show dogs first as with harlequin genetics the way they are , pet quality puppies are usually plentiful in that same harlequin litter.
All of our breeding dogs have been carefully chosen from the best champion bloodlines of European and North American descents , and do go through a series of screening and health testing before they are even considered for use in our breeding programs.
We strive to breed quality Great Danes , not quantity in our program, with health , temperament's and longevity at the top of our list, of being the most important things to breed for !
All of our puppies are raised indoors with us, observed carefully for
temperament's and treated as part of our family , from the day that they first arrive in our home.
We give them lots of love and handling as well as exposure to situations , to make them a sound , balanced, companion animal as they grow up.
All our puppies come with a 2 year health guarantee and age appropriate vaccines as well as a vet certificate of health, prior to placements.
Our puppies are also only adopted to approved homes
Any and all potential parents must go through our strict screening process before placements are approved.
We also want potential parents that will give us a life long commitment to our pups and keep in contact with us for assistance , advice, or updates , for as long as the puppy is alive.



Occasionally we do offer adult dogs and/or rescues to approved homes, so please inquire if your interest is in a older dog.
We just may have, something that may suit your home and commitment to this breed.


Judy Gray
Graysondane Kennels Perm Reg
2856 County Rd 17
L'Orignal , Ontario, Canada
(613) 675- 2823